FEI Vaulting World Cup Final Is Coming Soon
From April 18–21, Saumur, France will host the 2019 FEI Vaulting World Cup Final. And the International Federation for Equestrian Sports (FEI) had published the list of qualified vaulters for each of the three competing categories (female, male and pas-de-deux). The athletes and their federations have until the 18th march to finalize their entries.
---
---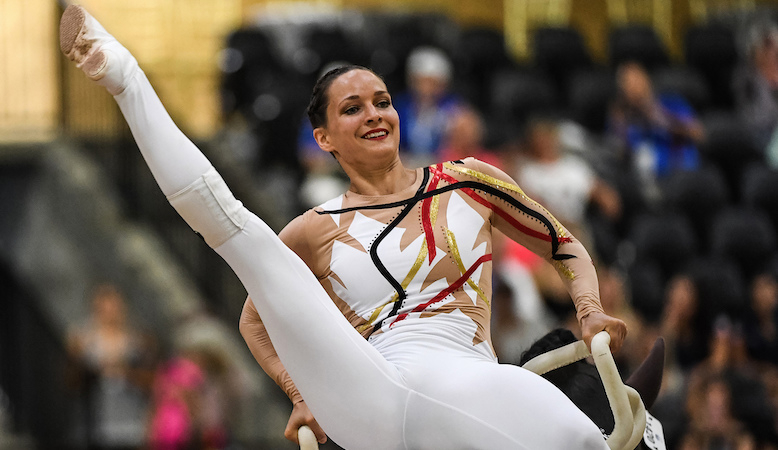 Female category: a Swiss-German contest
Five female vaulters (besides the titleholder Kristina Boe who was automatically qualified) have been selected for the World Cup Final after the four qualifying tests on the international circuit (Paris, France, Salzburg, Austria, Leipzig, Germany and Offenburg, Germany). Germany and Switzerland, countries with a leading reputation in the discipline, have qualified three vaulters each. For Switzerland: Nadja Büttiker, Marina Mohar, and Ilona Hannich, a rising Swiss vaulter. On the German side: Kristina Boe, Janika Derks, and Corinna Knauf.
Male category: Kristian Roberts for U.S. 
More nations are represented in this category. Indeed, six countries are likely to be present at the FEI World Cup Vaulting Final in 2019. Jannis Drewell, the German vaulter and defending champion, World Champion last year and European champion in 2015, was automatically selected to participate this year. Three other Germans are also qualified: Jannick Heiland, Thomas Brüsewitz, and his brother Viktor Brüsewitz. Switzerland could be represented by Lukas Heppler, and Colombia by Juan Martin Clavijo, World Champion in 2015 and 2017. The Italian vaulter Lorenzo Lupacchini, more known in the pas-de-deux category (World champion, winner of the 2017 World Cup, European champion in 2017), has been selected in the male category this year. The U.S. will be represented by Kristian Roberts, well known in the international vaulting family over the past 10 years. Finally, France has a opportunity for victory with Clément Taillez. 
Pas-de-deux: Americans in the middle of two Swiss–German duos 
Americans Haley Smith and Daniel Janes, making their debut in the competition, will be taking on two well-known couples: the Swiss Zoe Maruccio and Syra Schmid, and Germans Theresa-Sophie Bresch and Torben Jacobs. 
For more on vaulting,
see here.
---
---
---