No Brexit In Deauville As British Win Nations Cup
9th ever show and an 8th victory for the British in the Nations Cup at Deauville's CPEDI*** which took place this weekend at the Pôle International du Cheval Longines. Unbeaten since 2012, the team headed by the superstar in the discipline, Sophie Wells, led the competition right from the outset. Alongside the Grade V rider and her excellent C Fatal Attraction, her fellow team members Nicky Greenhill /Betty Boo in Grade IV, Georgia Wilson/ Chico III and Susanna Hext/LJT Engaards Solitaire LJT in Grade II formed the winning combination.
---
---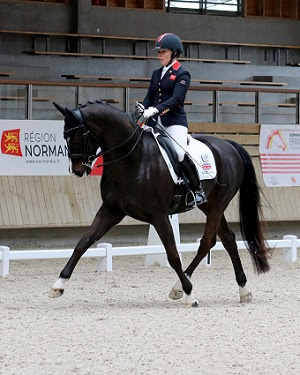 Their secret : " Our preparation and our organisation !" confided Sophie Wells. "We're extremely lucky to be supported by funds from the National Lottery. This allows us to concentrate on our sporting objectives and we have excellent coaching at home ! We always try to improve at each competition. It's hard to remain at the top, because the other nations are also improving. Nothing is won in advance. We must continue to work!".
With 423.497 points, they climbed onto to highest step of the podium in front of the World Champions – the Netherlands – who accumulated 416.642 points thanks to good tests from Frank Hosmar/Alphaville NOP in Grade V, Nicole Den Dulk/Wallace N.O.P in Grade II, Yvette Overgoor/ Flynn and Anni Meijer/Countrymill Clarc in Grade III. Bronze went to Russia who accumulated 402.040 points over the two days. The team comprised of Natalia Martyanova/Martinus HO and Natalya Zhavoronkova/Haltic Bruers in Grade V, of Vladislav Kolosov in Grade IV and of Vladislav Pronskiy in Grade I performed extremely well in this first competition of the season.
2nd day at Deauville's CPEDI*** which saw international para-equestrian dressage riders competing in their Individual test. Two objectives : Qualify for Sunday's Freestyle, and accumulate the maximum of points for the Nations Cup which takes into account the results of Friday's Team Test and Saturday's Individual Test.
GRADE V : SOPHIE WELLS AGAIN AND AGAIN!
Few surprises in the Grade V this morning as it was Great Britain's Sophie Wells and her magnificent C Fatal Attraction who yet again dominated the class, performing a test that was awarded the score of 76.048%. The World, European and Paralympic champion finished ahead of the talented Frank Hosmar, riding Alphaville NOP for the Netherlands, by more than 5%. The Dutch rider, already second in yesterdays Team Test attained a final score of 71.024%. Russia's Natalia Martyanova today overtook Sophie Wells on her second ride Diadeem (68.857%) taking 3rd place with 69.310% on Martinus HO. She was equally fifth riding Quinta, scoring 67.524 %. 
GRADE IV : A DOUBLE FOR GREENHILL

In the Grade IV, Prix de la région Normandie, Great Britain's Nicky Greenhill, competing in her first CPEDI*** abroad at Deauville, succeeded in taking both 1st and 2nd places in the Individual Test on King Edward I and Betty Boo respectively ! Competing against 9 other competitors she was the only rider to score over 68%, achieving 68.415% and 68.244%.
The winner of the Team test the previous day, France's Camille Jaguelin (19 years old) climbed on the 3rd step of the podium on Wimke. He was awarded the score of 67.122% by the five judges.
GRADE II : NICOLE DEN DULK WIDENS THE GAP
Winner the previous day, Holland's Nicole Den Dulk  repeated the performance in the Grade II Individual Test - Prix Natura 4 Ever. Riding Wallace NOP, with whom she is starting her 2019 competition season at Deauville, she improved on her Team Test result, riding a test rewarded with 71.235%. Fourth yesterday, Great Britain's Natasha Adkinson climbed two places, finishing second on Sweet Caledonia scoring 69.235
. Her compatriot Lee Pearson completed the line-up with B.
Grandeur
. The multi-medallist obtained a score of
69.176%. 
GRADE III : MUSICAL CHAIRS
Only two riders yesterday and today in the Grade III,  Anni Meijer and Yvette Overgoor, both riding for the Netherlands, and they decided to play musical chairs ! Having headed the Team Test, Yvette Overgoor had to settle for second place this Saturday, in the Individual Test - Prix des Caves Morny. With Flynn, she attained 63.206. However, her compatriot Anni Meijer on Countrymill Clarc took a commanding lead, the rider, who has already competed at Deauville (in 2017), gave a performance rewarded with a score of 68.235%. 
GRADE I : RUSSIA, BIS REPETITA
Final class of this second day, the Grade I Individual Test - Prix Le Grand Manège – saw a repeat of the previous days Team Test. Riding Silva Le Andro, 26 year old Vladislav Pronskiy, gave Russia a second victory this weekend. Scoring 68.571%, the duo had a nearly 3% lead over Ireland's Michael Murphy on Rohan, 2nd with a test scoring 65.607%. Greece completed the podium thanks to Eleni D. Pantechaki on Miss Olimpia (63.929%).
Tomorrow, the best riders in each grade will ride their Freestyle from 8.30am onwards.
Full results can be found
by
clicking here
---
---
---