Super Sophie Wins Freestyle Gold At WEG
Sophie Wells and C Fatal Attraction, already multiple gold medallists at the 2016 Olympics and winner already of one individual  gold  at the current World Equestrian Games in Tryon, USA,  yesterday added another  with a sensational freestyle test  that scored over 80%.
---
---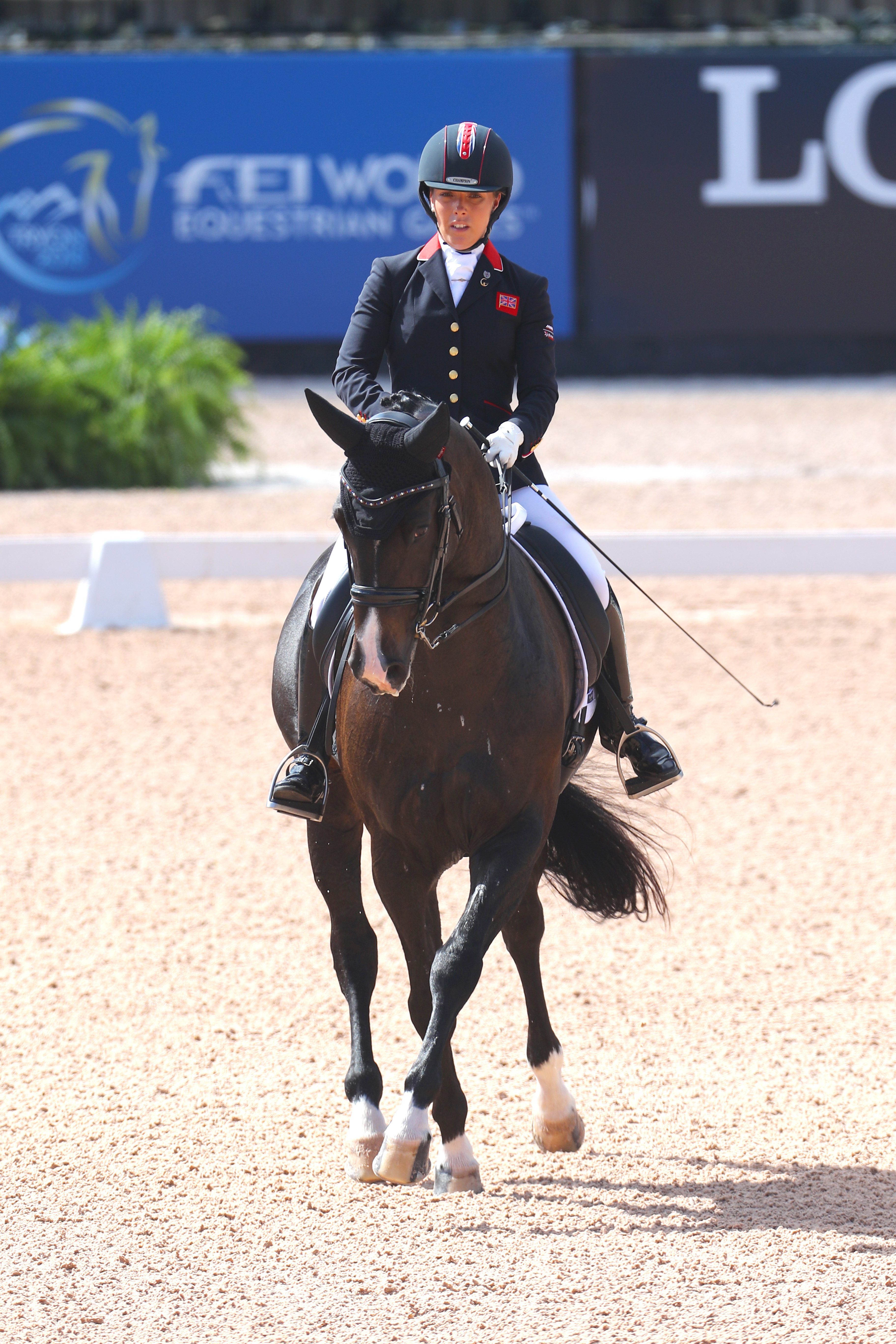 An imperious score of 80.150% was more than enough for Great Britain's Sophie Wells to pick up her second gold of these Games in the grade's Freestyle. Riding C Fatal Attraction, she finished ahead of The Netherlands' Frank Hosmar and Alphaville N.O.P. who scored 79.155% to take his second silver. Well's  score was another WEG record, after she broke her own in the team test on Thursday.
Speaking after the test, Wells said her horse was "a little bit tense today and on edge but he's come out this week and given me everything. When you miss out on an Individual Gold [WEG 2014] after training every day it's hard, but to achieve this after a big gap like I've had (between gold medals-ed) is amazing. That's why Rio 2016 was so special because I missed out on the gold in London 2012 too!" The test was a new creation with a specially written sound track by Tom Hunt.
The Netherlands' Sanne Voets became the first ever non-British rider to win three gold medals in one major international championship before team-mate van der Horst put the icing on the Dutch cake by doing exactly the same. And topping off an incredible five days of competition there was a history-making moment when Japan secured its first ever Para Dressage medal at the Adequan© World Para Dressage Championships at the FEI World Equestrian Games™ in Tryon, USA today.
Competing in the Grade V competition, and less than two years out from the Tokyo Paralympic Games, Japan's Tomoko Nakamura and Djazz F scored 73.540 to take a surprise bronze. Nakamura said, "I was so nervous and it went so quickly and I feel so honoured to be in such a big competition".
---
---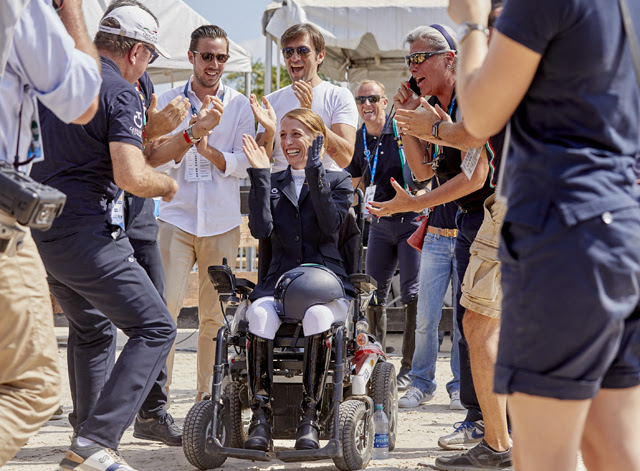 The day started with victory for Sanne Voets, and that first ever non-British triple in the Grade IV competition. Riding her beloved Demantur N.O.P. she scored 79.645% to finish ahead of Brazil's Rodolpho Riskalla on Don Henrico who posted 77.780%. "This horse two years ago won the first ever Paralympic gold medal for the Netherlands, and he contributed very much to our first ever team gold medal on Friday, and now he is the first one taking home triple gold for the Netherlands in the World Games. I couldn't be happier!"
There was double joy for Team USA too, as Kate Shoemaker claimed the bronze on Solitaer with 73.230%. It was the the host nation's second medal of the Games, and comes hot on the heels of their amazing fifth place in the team competition. 
A stunning display of control and grace by Italy's Sara Morganti took the freestyle gold in the Grade I competition – her second of the Games. Riding Royal Delight, her horse for the past eight years, Morganiti scored 78.867 ahead of Rihards Snikus of Latvia. Snikus, a keen DJ in his spare time, rode King of the Dance to score 76.113% and pick up his first ever global medal having broken onto international scene at the FEI European Championships in Gothenburg in 2017, where he picked up a silver and a bronze.
"It's incredible and so big an emotion I can't even describe it," Morganti said after waiting for confirmation of her win. "We won three out of three [the pair had the highest score in their grade's team test as well] and I was hoping for a medal, but I didn't dare hope for two gold medals. It's a dream come true and so very fantastic!"
The two wins here at WEG will help Morganti put the disappointment of Rio 2016, when her horse didn't pass the compulsory veterinary check, behind her. "I needed to come out here with my horse and show how good she is," she said, "and we worked so hard at home to do our best and she's improved. The beautiful thing is she continues performing at the top of the ranking and competitions. This is even more than a gold!"
 And double US joy turned to triple when Roxanne Trunnel, riding Dolton scored 75.587 to pick up her nations' third Para Dressage medal by taking the bronze.
---
---
Baker takes a fall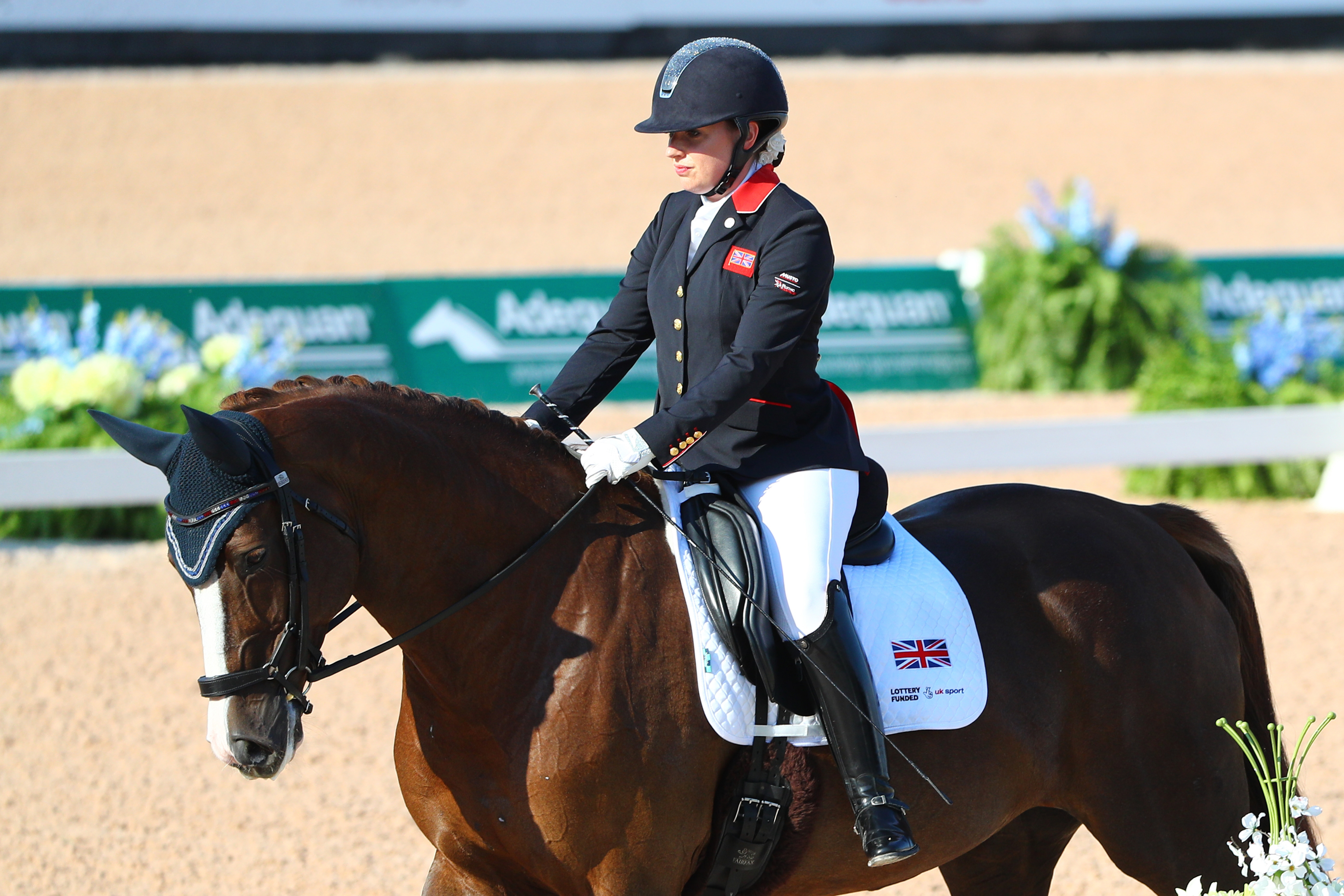 But there was high drama when Great Britain's Paralympic Champion Natasha Baker was thrown from her horse. Mount St John Diva Dannebrog, during her test, eliminating her from the competition. "My ego was bruised and so was my backside," she joked afterwards, "but at least I landed on the centre line!" Baker had barely started her test when the incident happened  as her nine year old mare, a comparatively new ride for Baker (who missed last year's European's while searching for a new horse). As the pair turned up the centre line from C,  the mare appeared to hear something frightening behind her and she shot off with a buck unseating  her rider. "I have no idea what happened out there, she is usually an angel, but we will take her back and try and give her some confidence back as i think she is a little shellshocked as well."  Baker, may well have been bruised and shell shocked herself but as usual  for a rider who is a supreme competitor, she left the arena smiling and waving at the crowd who were understandably concerned.
So at the end of a brilliant week of competition, The Netherlands sit comfortably atop the overall medal table, with five golds, two silvers and two bronzes, followed by Great Britain with two golds, and one silver. Denmark are third with two golds and a bronze, while Riskalla's two silvers give Brazil the fourth spot. The USA sat fifth with one silver and three bronzes.
Results
here 
---
---
---